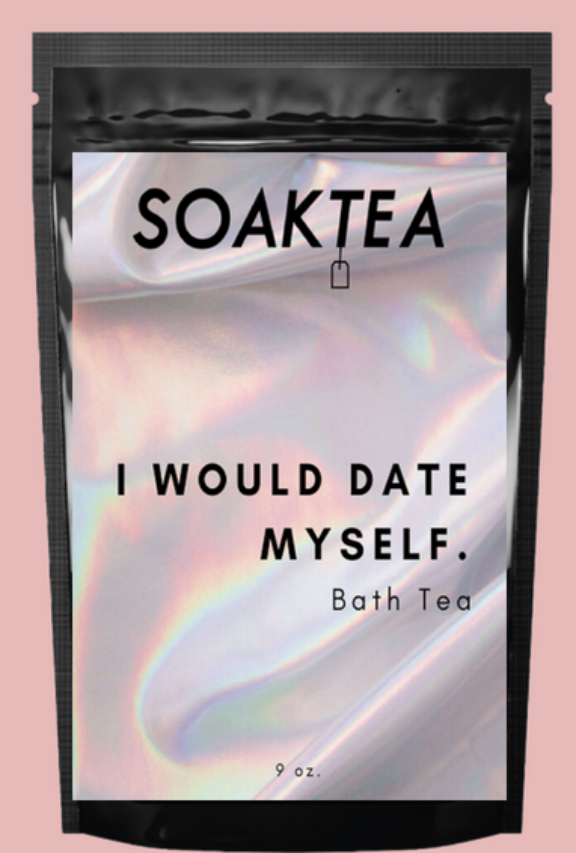 I would date myself.
 MOOD: ME, MYSELF and I.
For those lazy nights in when all you want to do is Netflix x chill (by yourself), sip some rosé, and have a date with your fabulous self. Made with a blend that includes roses and chocolate. This is an ultra relaxing glowing pink bath soak that includes charged Rose Quartz to balance the heart chakra and promote self love <3.
Key Ingredients:
Epsom Salt- Relieves and relaxes sore muscles. Draws out toxins from the body and purifies the skin.
Rose Quartz Powder- The stone of unconditional love. "Rose Quartz opens the heart to all types of love - love of self, love of family, love of friends, romantic love."
Coconut Milk- Moisturizing and helps to soothe the skin.
Dried Rose Petals- Provides a fresh scent and softening of the skin. 
Directions:
Pour a quarter of the soak directly in to a warm bath or pour it into the reusable muslin bag for a bath without a mess. Soak for atleast 15-20 minutes for best results. To reuse the muslin bag, empty the soaked contents and allow the bag to dry before using again. EACH BAG ALLOWS UP TO 5 BATHS. 
 SOAKTEA is a premium bath tea made with all natural botanicals in order to provide the most relaxing and Instagram worthy bath EVER. All ingredients are vegan and cruelty free.
Ingredients Epsom Salt, Himalayan Pink Sea Salt, Sodium Bicarbonate, coconut milk powder, citric acid, jojoba oil, Rose Petals, Rose Quartz Powder, Mica, Titanium Dioxide, Iron Oxide, Fragrance Oil.
Soaktea is not intended to ingest. Keep away from children. 
This statement has not been evaluated by the Food and Drug Administration. This product is not intended to diagnose, treat, cure, or prevent any disease.